In Search Of Peace
By The Edmistons (Phillip & Maritza)

Are you in search of peace, purpose, and a pathway in your life?
Do you feel that there has to be something more than the tedious routine?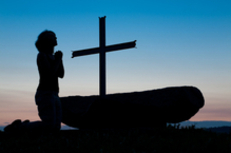 Friend, there is, that's why you posses a deep yearning that you try to satisfy with position, possessions, past times, pleasure, and people, yet it never can be filled with those things, because only the Lord Jesus can give purpose and peace that surpasses understanding to your existence (Phil. 4:7). He promised, "Peace I leave with you, my peace I give unto you: not as the world gives, give I unto you. Let not your heart be troubled, neither let it be afraid" (John 14:27).
CHRIST OFFERS YOU WHAT YOU DESIRE MOST: ETERNAL LIFE & PEACE, WHICH YOU RECEIVE BY:
CONFESSING THAT YOU ARE A SINNER
Perhaps you say, "I'm a good person, I have never harmed anybody". Still you can't affirm that you never sin. Or maybe you think, "The things that I have done don't have forgiveness". Friend, we "all have sinned, and come short of the glory of God" (Romans 3:23), which is the reason Christ came. You see , "God demonstrates His love toward us, in that, while we were yet sinners, CHRIST DIED FOR US" (Romans 5:8). The Lord Jesus came "TO SEEK AND TO SAVE that which was lost" (Luke 19:10).


COMPREHENDING THAT IT IS A GIFT
We are used to working in order to achieve what we desire, however eternal life is a GIFT, if it were not so it would not be within everyone's reach (Romans 6:23). Now, a gift can be received or rejected, it is your choice.

OPENING THE DOOR OF YOUR HEART
Jesus Christ guarantees, " Behold, I stand at the door, and knock: if any man hears my voice, and opens the door, I WILL COME IN TO HIM, and will dine with him, and he with Me" (Revelations 3:20).
You open the door of your life through faith, " for by grace are ye saved through faith; and that not of yourselves: it is THE GIFT OF GOD: Not of works, lest any man should boast" (Ephesians 2:8-9).
Why faith in the Lord Jesus Christ and not in someone else or something else?

Because He emphasized,
"I am the way, the truth, and the life: no man comes unto the Father, but by Me"
(John 14:6).
We invite you to confess that you are a sinner, to understand that eternal life is a gift, and to open the door of your heart sincerely by prayer.
"Lord Jesus, Begotten of the Father, resurrected from the dead, You love me so much that You left the celestial throne in order to take my place on the cross. I have nothing to offer You, I'm a sinner, but through faith, in search of your grace and mercy, I plead forgiveness. Make me a new person. Grant me forgiveness, peace and purpose. Take control of my life. Thank you, my beloved Lord and Savior."
YOUR SPIRITUAL BIRTH CERTIFICATE
"But as many as received Him, TO THEM GAVE HE POWER TO BECOME THE SONS OF GOD, even to them that believe on His name: Which were born, not of blood, nor of the will of the flesh, nor of the will of man, but of God" (John 1:12-13).


YOUR ASSURANCE WHEN DOUBT ASSAULTS YOUR THOUGHTS
" …We are more than conquerors through Him that loved us. For I am persuaded, that neither death, nor life, nor angels, nor principalities, nor powers, nor things present, nor things to come, Nor height, nor depth, nor any other creature, shall be able to separate us from the love of God, which is in Christ Jesus our Lord" (Romans 8:35-39).
"Verily, verily, I say unto you, He that hears My word, and believes on Him that sent Me,
HAS EVERLASTING LIFE, and shall not come into condemnation;
but HAS PASSED FROM DEATH UNTO LIFE" (John 5:24).

Finally, ask the Lord to guide you to a church where you can grow in the knowledge of the Scriptures, mature in the love towards God and be an instrument in His church (Heb. 10:24-25).
Copyright by Women of Perseverance. All rights reserved.
Reproduction of all Women of Perseverance's written materials must be in its entirety, without altering or editing text; the author and www.LasPerseveradoras.org must be stated.
We prohibit any reproduction for sale.
We prohibit AUDIO and VIDEO reproduction of any Women of Perseverance materials.
Our site, www.LasPerseveradoras.org, can be used as a link.